The self-employed scientist
Published: April 22, 2022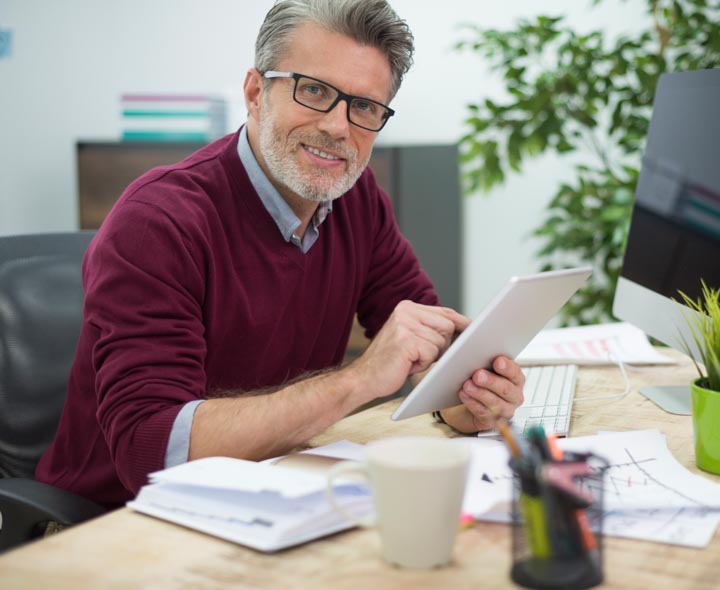 Setting: BASF central premises, company tour. More precisely: my own thoughts during the tour are slowly drifting away. "To your right, you see… steam cracker has an annual capacity of… highest level of safety…"
Great, overwhelming, fascinating, but still- or because of it- I am listening more and more into myself.
Founding a company, especially as a natural scientist, sounds as desirable and realistic as climbing Mount Everest: fantastic! But after all, also a little fanciful.
Wait a second, are we not the country of the Mittelstand, the country in which company A from village B is utterly dominating the world market for an exotic component in garage doors, while village C around the corner is supplying the veterinary practices around the globe with the best eye drops for retinal problems? There MUST be possibilities, especially in the biotech field with its many company foundations?
Is it reverie to think about your own enterprise, or at least of any form of self-employment as a natural scientist?
Surely not, as there are myriad examples of successful self-employed scientists; it´s not just about internationally operating billionaires.
The simplest form of self-employment is to market your own manpower and expertise as freelancer. In the natural sciences, this is best known from advisors and consultants, often next to an academic career. But freelancing is not reserved to greying professors. With the right key qualifications and niche skills, it is possible to already find your place on the freelance market in younger years. Are you already starting to search for the certificate as commissioner for Health and Safety, a training you managed to get during your last salary negotiation? Do you have itchy hands to refresh your skills in analysing x-ray crystal structure or DNA sequencing data? Or do you simply want to professionalise a passion like writing? Then start straight away; the bureaucratic hassle is minimal.
It´s rather unlikely that the alarm bells in the company headquarters of the multinationals are going off right now already, "Help, new competitors!" However, you can already start with your self-employed work at this point.
Practical tip: Pricing for freelancers
Did you already shake your head about the prices for "externals"? Hourly rates of 100 € and more are not uncommon. And if you want to hire a lawyer or management consultant, the prices go up even more. A nice topic to get annoyed about at the beer table, right? Looking at your own pay slip as an employed scientist, you can probably calculate back to an hourly rate in the lower half of two-figured numbers? Let´s move the beer glasses aside and sketch the facts.
The wage of an employee is being paid continuously. She, therefore, doesn´t need to call in at the employer, negotiate a salary and sign a contract before the salaried work day can start. In self-employment, only a part of the work time can be billed, the rest goes into unpaid acquisition, bookkeeping, research and others. On top of this, you won´t get money for times of sickness, training and holidays. Enough? Or shall we take a closer look at some of the insurances, for which the self-employed need to pay the employer´s contribution as well, which is invisible to the employed workforce? So you have to subtract a lot more from a freelancer's hourly rate than from an employee's gross salary to get to the net salary in her pocket. If you start as a freelancer, you´ll typically need to ask for two to three times the hourly rate you got as an employee, depending on the "frictional losses" that your new "job" entails. Just believe us, you´re worth a lot more than you think! Pricing for self-employed is simply fundamentally different from that of regular employees, regardless of the murmur on the beer table. And now the bill, please.
Before you can make money, you first of all have to put money in. The type of financing depends on the amount of money required as well as your readiness to share risk and profits. In the case of a purely service-based company, you can often start alone, particularly because things like public image or networking with potential customers can be done cheaply in the internet era. Things like prototype production can be outsourced to specialised companies or cooperation partners. Trade fairs are too expensive for you, even the lower rates for start-ups and shared booths? Then save money by going as a visitor. This has the additional benefit that your "victims" on the booths can´t run away, while no one can pin you down on your own booth, telling stories about aunt Annie´s apple pies. You can pick who to talk to and when. And have a look around the freelancer exchanges on the internet and take up your first little role as an employer. Or maybe you even find your first customers that way? And even if you don´t have an idea for founding a company, you can still go to one of the founder meetings and join a project.
It can be helpful to start out on your own to sharpen your view on what you want to achieve before expanding. It´s also possible to run such a (pre-) founding phase next to employment to minimise the financial risk. If external funding is required- either because the living room has to be exchanged to an office or because you might, after all, need production capacity to launch your attack on BASF- you can distinguish between equity and borrowed capital. Equity belongs to a company, whether it comes from the founders themselves or from investors, who in turn become shareholders. Borrowed capital can come in the form of a classical bank credit, which needs to be repaid but therefore leaves the company itself in your hands. This little excursus into accountancy points to the main decision in financing: Do I want to share risks and profits or leave it in my own hands? Often, but not always, this question is answered by the amount of money required: the more you need, the more it is necessary to get investors on board. For start-ups, these are typically Venture Capital Investors, which enter a project with typically six-figured sums in the first round. Therefore they receive a part of the company and have a say. It should not be underestimated how much effort has to be put into attracting funding. Even for a "simple" bank credit, you need a well-written business plan, including financial planning. And if you want to work with Venture Capitalists, then establishing and fostering relevant contacts will be one of the main activities in your founding phase.
Many start-ups qualify for a variety of different support programmes. If your company goals align well with those of a foundation, you can be funded by them. Organisations like the KfW bank offer attractive credits for founders. Business plan competitions can yield funds and visibility. Various publicly-funded programmes and subsidies on regional, national and European level provide help in the form of things like subsidised rent in the local business park or the European Social Fund. The "price" you have to "pay" for all this help is the inherent bureaucracy of such programmes. And don´t underestimate it: for the application and administration of a European Social Fund, you need to calculate about 20 hours per week– for the entire term of the programme! For this particular case, this entails: an extensive application, precise documentation of hours worked, materials used and last but not least, interim- as well as final reports. Ask around, get advice and build a network with other founders to exchange information about these and other topics. There are various formats in which founders can meet and team up, from founders´ nights events to informal reunions in pubs.
All in all, an "easy" way to found only exists for millionaires with the right amount of Mickey Mouse money to spare. For all others, it´s a trade-off between various factors: where do money and ideas come from, where do the profits go, and who bears the risks. But the beauty of it is that there are always means and ways for really good ideas, even if you need half a million to start. Your idea "just" has to be good enough; you need a solid "unique selling point" with which you can enter the market and convince your customers. And these ideas exist for all scales of founding project, from freelancing to a pure service company up to a company with full analytical and/or production capacities. If you take a look around start-up parks, you´ll realise how multifaceted the founding projects are. "I can´t afford this" is a nonsensical sentence in the start-up scene. "I can´t afford it in this way" makes more sense.
Do you feel overwhelmed when thinking about the multitude of different tasks of a company foundation? Well, you´ll have to act as a generalist, whether you want it or not, and you will get to know lots of things that way. In a way, you will run your personal MBA programme, with the "University of Life" as your institute. If you encounter something you can´t do yourself, you always have the chance to buy in this know-how. And if this buying gets too much, you have to go back a few paragraphs to the section on financing or learn to do it yourself, with lots of improvisation in the beginning.
We want to close this article with something surprisingly positive, working hours. Surely, founding a company is no amusement park, but whatever you do, you do it for your own company and can make your own decisions. That´s an enormously motivating basis. And although in most cases you´ll be working a lot, it´s entirely in your hands when exactly you do it. So you do have an intense but highly flexible job. Compatibility of family and work? Just make it compatible!
Interested in getting to know more career options? You´ll find a list with the relevant links in the section (Alternative) careers within our Career resources. 
Our workshop Startup basics for scientists deals with the challenges of starting your own company.