Workshops and talks for scientists
Please explore our interactive workshops and talks: for scientists, by scientists. 
We also moderate events like conferences and panel discussions.
Almost all topics can be offered in English, German, and even Dutch.
Please look at our Online Academy for free previews of our courses.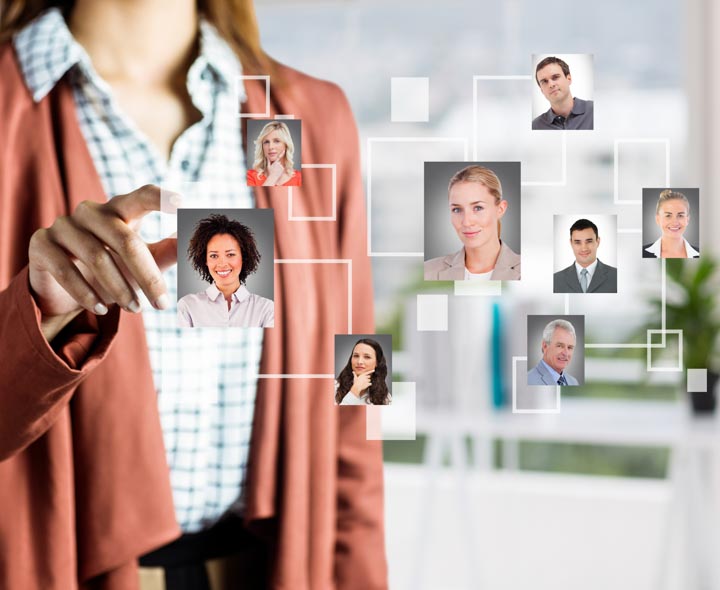 You have your degree in hand or will soon do so and know which job types suit you well. How to score your first job?
more
Online courses and blended-learning activities for scientists.
We started developing online workshops in early 2019, fully one year before Corona hit Europe. We love the flexibility that these formats give to the coordinators and participants: we typically have one webinar (2-2.5 h) per day, each followed by self-paced work on our learning platform. After the webinar phase, the participants have three weeks to dive deeper into the course material and receive individual feedback from the course instructors.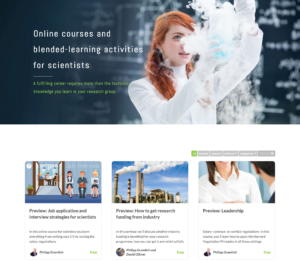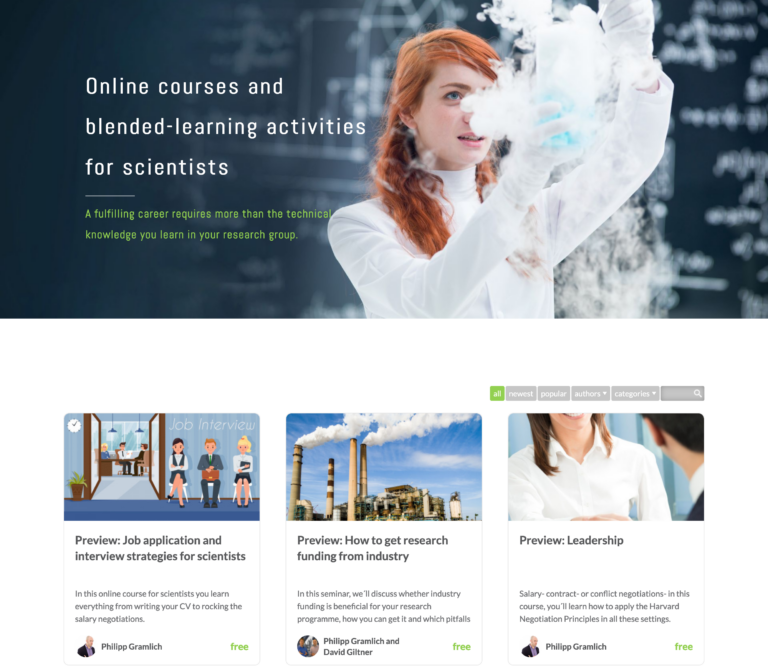 Online or in-house? The right format for every type of learner
We often get questions like: "Shall I conduct this training as in-house training or online course?" or "Why should I book your online academy, there are many free MOOCs online?" There is no clear answer, so let´s look at the merits of each course format.
Why should you work with NaturalScience.Careers?
Why soft skills workshops and talks for scientists?
Everyone agrees that scientists are highly valuable in the labour market. But that's not the whole story. There is growing recognition that hard skills (technical/ research lab skills) are only one part of the value of a scientist. Soft skill development for scientists, also called transferable skills, has recently received increasing attention. Graduate schools and similar institutions have sprung up to provide guidance and workshops in these areas.
At NaturalScience.Careers, our mission is to provide the best possible soft skills training specifically for scientists. When we started this journey in 2012, we felt that many scientists didn't reach their full professional potential. We can make today's PhD and postdoc experiences richer and broader by providing workshops covering unique topics.
Scientists for scientists
All trainers and speakers at NaturalScience.Careers are scientists with years of work experience in academia and/ or industry. By sharing the same educational background as our workshop participants, we can 'speak their language.' Therefore, our value to our customers is: Scientists for scientists. We know the challenges that young researchers face during their PhDs and postdocs as well as those that lie ahead of them.
Online and offline
Almost all of the workshops and talks for scientists that we offer are available as online- and in-house events.
We started in early 2019 to build our online courses. When covid-19 hit Europe in early 2020, we didn't have to do a hectic switch to online formats but had the luxury to work on our content without time pressure.
We see online and offline workshops as equally strong formats, each with its own ups and downs. When we get a request for an event, we interrogate the target group's needs. Together with the customer, we then decide which format makes the most sense from a purely didactic perspective.
Which topics do we offer?
All our events fall into three categories: Career development, (Science) Communication and (Self-) Management. Our Talks focus on specific sub-topics from our workshops. Let us give you a brief tour of the topics we cover.
Career development
When it comes to Career development, we don't have a bias for or against academia or industry. We aim to facilitate decisions by the researchers we work with so that they can make individual and informed decisions.
PhD! And, next? gives orientation about your own aims, career options and how to increase your employability. Job application and interview strategies enables our participants to score the job that fits their interests and values. Goodbye academia? brings the content of these two workshops together.
Learning about these topics is a good idea for pretty much every scientist during early career stages. On top of that, the diverse backgrounds of our trainers allow us to offer workshops for more specific wishes.
How to be more employable in the private sector shines a light on the transition from academia to industry.
The academic track gives an orientation about the path to a professorship. Participants can make a better-informed decision whether or not to pursue this career path.
Women & career highlights the challenges that many women face due to their gender.
Startup basics for scientists deals with the career paths of joining or founding a startup.

(Science) Communication
Storytelling for scientists allows you to craft your own science story, which is the vital backbone of any paper, presentation and grant application.
Be your own journalist lets you take the perspective of a non-specialist who gets in contact with your work. By having their needs in mind, you can craft more powerful messages for social media and public engagement.
The workshops Self-presentation and Social media both focus on different aspects of networking.
The main presentation formats are Oral and Poster presentation. In both cases, we take a look at online and offline presentation formats.
Convincing and debating allows you to craft (scientific) arguments, which is helpful for discussions and Q&A sessions.
Intercultural communication and awareness lets you understand the complexities of working in international teams.

(Self-) Management
Leadership skills introduces you to essential tools you as a scientist will need as a (future) leader.
Women in leadership addresses the specific situation of female bosses.
Time and career management is about giving the most important aspects of your life the priority and time they deserve- both professionally and privately.
Introduction to quality management systems (QMS) lets you explore the world of regulated environments like pharma companies.
The workshop Negotiation teaches you principles, which can be used to negotiate your salary and contract, but also to address conflicts.
Staff selection is about crafting your own hiring process: you learn to focus on finding the best fit for a given position, not just follow your biases and stereotypes.
We have two workshops specifically designed for (future) group leaders.
How to start your own lab is conducted together with one of the professors in our team. We combine their experiences of starting their own lab in academia with Philipp's mixed industry/ academia perspective on leadership.
How to get research funding from industry explores if and how you can add this funding stream to your research programme.
How it works: how you can book us
We offer our workshops and talks directly to Graduate schools and similar institutions.
We do not offer open courses. These are courses where individuals can sign up by themselves.
Suppose you are a researcher yourself and find (one of) our topics interesting, then it's best if you talk to people like your Graduate school Coordinator and propose a topic to them. You will find out that they are happy to hear about this: it's part of their job to learn about the needs of the scientists they are supporting.
Please contact us if you have any questions, whether you are a coordinator or an individual.
Please click on the toggle below to see a list of reference customers we worked with in the past.
Reference customers (Click to see the full list)
Life Science Zurich Graduate School (Universität Zürich, ETH Zürich)
Institut Curie, LIBRA Career Day, Paris
Okinawa Institute of Science and Technology, Graduate University
University of Oslo
Institut de Science des Matériaux de Mulhouse, CNRS, Université de Haute-Alsace (France)
NWO: Netherlands Organisation for Scientific Research
Amsterdam UMC University Medical Centers. Amsterdam institute for Infection and Immunity
VIB, Belgium
Doctoral schools Hasselt University
University of Luxembourg, Doctoral Education, Transferable Skills Training
SASPRO Programme, co-financed by the European Union and the Slovak Academy of Sciences
Innovative Training Network Analytics for Biologics, A4B (H2020-MSCA)
IEEE Signal Processing Society
Academia Copernicana Interdisciplinary Doctoral School, Nicolaus Copernicus University in Toruń (Poland)
Bayerns Grüner Gründerwettbewerb PlanB Biobasiert.Business.Bayern / Coaching
Zielpuls GmbH, Munich
Max-Planck-Gesellschaft zur Förderung der Wissenschaften e.V. – Generalverwaltung – Abteilung PE – Personalentwicklung & Chancen
Max-Planck-Institut für Kohlenforschung, Mülheim
Max-Planck-Institut für Polymerforschung, Mainz
Max Planck Institute of Biochemistry, Martinsried
Max Planck Institute for Biology of Ageing, Cologne
Max Planck Institute of Molecular Plant Physiology, Golm
Max Planck School of Photonics
Max Planck Institute for Molecular Genetics, Berlin
MARUM – Zentrum für Marine Umweltwissenschaften, Universität Bremen
Helmholtz Zentrum München, Deutsches Forschungszentrum für Gesundheit und Umwelt (GmbH)
Max-Delbrück-Centrum für Molekulare Medizin in der Helmholtz-Gemeinschaft (Berlin)
Forschungszentrum Jülich GmbH, Institut für Energie- und Klimatechnik, IEK-1: Werkstoffsynthese und Herstellungsverfahren
Karlsruher Institut für Technologie (KIT)
Center for NanoScience, LMU Munich
bidt Graduate Center
Leibniz Institute SAFE: Sustainable Archtecture for Finance in Europe
SFB 986 Tailor-Made Multi-Scale Materials Systems (Technische Universität Hamburg)
ABINEP – ESF-funded International Graduate school on Analysis, Imaging, and Modelling of Neuronal and Inflammatory Processes, Otto-von-Guericke-Universität Magdeburg

ABINEP 

– ESF-funded International Graduate school on Analysis, Imaging, and Modelling of Neuronal and Inflammatory Processes, Otto-von-Guericke-Universität Magdeburg
Ci3 Cluster Advanced Training Programme
Bonner Graduiertenzentrum der Rheinischen Friedrich-Wilhelms-Universität Bonn
GRADE – Goethe Research Academy for Early Career Researchers, Goethe Universität Frankfurt
Ph.D. Medical Research – Epidemiology & Public Health, Munich Medical Research School, LMU Munich
RWTH Aachen University – Center for Doctoral Studies (CDS)
International Max Planck Research School on Earth System Modelling (IMPRS-ESM), Hamburg
Integrated Graduate School Solvation Science within the Cluster of Excellence RESOLV (Ruhr-Universität Bochum / Technische Universität Dortmund)
Regensburg International Graduate School of Life Sciences (RIGeL), Universität Regensburg
Junior Scientist and International Researcher Center (JUNO), Heinrich-Heine-Universität Düsseldorf
Service Unit Gender Consulting/Gender Equality Office, TU Darmstadt
Technische Hochschule Nürnberg Georg Simon Ohm, Förderung von Nachwuchswissenschaftlerinnen
Mentoring-Programm ARIADNEnat (FAU Erlangen-Nürnberg)
Forschungsverbünde der Friedrich-Alexander-Universität Erlangen-Nürnberg zur Förderung der Gleichstellung
TU-Nachwuchsring der TU Kaiserslautern
International Office und Gleichstellungsreferat der Universität Ulm
"kite-mentoring" Programm der Albert-Ludwigs-Universität Freiburg
dynaMENT Mentoring for Women in Natural Sciences. dynaMENT is a joint venture of Universität Hamburg (MIN Faculty, cluster of excellence CUI, Collaborative Research Centre SFB 676 and SFB 925), DESY, MPSD and PIER Helmholtz Graduate School
Women's Career Day, a cooperation of the Collaborative Research Centers SFB 676 and SFB 925, the Hamburg Centre for Ultrafast Imaging CUI, the Max Planck Institute for the Stucture & Dynamics of Matter, MPSD, the PIER Helmholtz Graduate School, the MIN Faculty, and the European Molecular Biology Laboratory EMBL
SPPEXA — German Priority Programme 1648, Software for Exascale Computing
TUM Graduate School (TU Munich)
Justus-Liebig Universität – Gießener Graduiertenzentrum für Lebenswissenschaften – Postdoc Program
Institute of Cognitive Science, Osnabrück University
Carl von Ossietzky Universität Oldenburg – Fakultät für Medizin und Gesundheitswissenschaften
Geometric Methods in Mathematics, Technical University Dresden
Graduate Center Weihenstephan
Graduiertenakademie, Technische Universität Dresden
Graduate School of Life Sciences (GSLS), Universität Würzburg
Dahlem Research School (DRS), Freie Universität Berlin
Talent Factory, TUM ForTe, Technische Universität München
Cusanuswerk e.V.
SFB 854 – Molekulare Organisation der zellulären Kommunikation im Immunsystem (Otto-von-Guericke-Universität Magdeburg)
Hochschule Osnabrück, Promotionskolleg
Hochschule für angewandte Wissenschaften Coburg
SCIENTIA Karriereentwicklung für Nachwuchswissenschaftlerinnen (Julius-Maximilians-Universität Würzburg)
Freiburg Research Services, Albert-Ludwigs-Universität Freiburg
International Research Training Group (IRTG 1904) "Processes and impacts of climate change in the North Atlantic Ocean and the Canadian Arctic – ArcTrain", Universität Bremen
GRK 2271, Universität Marburg
SFB 1177 Molecular and Functional Characterization of Selective Autophagy (Institut für Biochemie 2, GU Frankfurt)
SFB/TRR 127 Biologie der xenogenen Zell- und Organtransplantation- vom Labor in die Klinik (München, Dresden, Hannover, RKI, PEI)
SFB TRR 102, Institut für Physik, Martin-Luther-Universität Halle-Wittenberg
Integrierte Graduiertenschule des SFB/TRR 227, Ultrafast Spin Dynamics am Fachbereich Physik der Freien Universität Berlin
TRR 174, Marburg/München
SFB 815 Redox Regulation: Generatorsysteme und funktionelle Konsequenzen (Goethe-Universität Frankfurt)
SFB 834 Endothelial Signalling and Vascular Repair (Klinikum der Goethe-Universität Frankfurt)
SFB 914 Traficking of Immune Cells in Inflammation, Development and Disease (LMU Munich)
SFB 987 Microbial Diversity in Environmental Signal Response (Max Planck Institute for Terrestrial Microbiology/ Philipps- Universität Marburg)
SFB 1032 Nanoagents for the spatiotemporal control of molecular and cellular reactions (LMU Munich, TU Munich, Max Planck Institute of Biochemistry, Munich)
IRTG-SFB 1064 Chromatin Dynamics (LMU Munich, Helmholtz Zentrum Munich, Max Planck Institute or biochemistry)
GRK 1620 Models of Gravity (Universities of Bremen, Oldenburg, Hannover, Bielefeld, Copenhagen, and Jacobs University Bremen)
GRK 2099 Hallmarks of Skin Cancer (Department of Dermatology, Venereology and Allergology, University Medical Center Mannheim, Ruprecht-Karl-University of Heidelberg)
GRK 2376 Confinement-controlled Chemistry (Ruhr-Universität Bochum, Technische Universität Dortmund)
TRR247 "Heterogenous Oxidation Catalysis in the Liquid Phase", Universität Duisburg-Essen
Cluster of Excellence "Precision Medicine in Chronic Inflammation" (PMI)
FAU Erlangen-Nürnberg, GRK 1910
DFG-FOR 2136 Sociality and health in primates (Georg-August-University Göttingen, Deutsches Primatenzentrum, Max Planck Institute for Evolutionary Anthropology, Robert Koch Institut)
Universität Bayreuth
Cardio-Pulmonary Institute (Goethe-Universität Frankfurt)
Leibniz Institute for Baltic Sea Research Warnemünde – IOW
BioContact e.V., dkfz Heidelberg
Fachforum Verbundpromotion, Bayerisches Wissenschaftsforum (BayWISS)
Conference BE WISE (Diversity Management of the TU Dresden)
PostDoc Community of the Max Planck Institute for terrestrial Microbiology
JCF Konstanz, Frühjahrssymposium 2018, Universität Konstanz
JCF Stuttgart, JungChemikerForum of the GDCh (German Society of Chemists)